Dromara Cycling Club are proud to present their 2011/2012 winter series of Trail Quests with the first round this Sunday 30 October 2011. These off-road orienteering adventures are great for all levels of cyclists who want to discover the lanes, bridle ways and trails around the country in a hunt for markers. As before, proceeds from the series will go to the club's chosen charity, the Northern Ireland Cancer Fund for Children.
Format of the events
You can enter as a solo or form a team of up to 3 riders.
At your alloted time you are handed a map, a list of clues and a pen.
You work in your team to set out and find the locations marked on the maps.
Once you find the marker you read the question and write in the answer.
You then move onto the next marker.
Markers have different point values depending on how hard they are to get to.
The aim is to gather as many markers/points as possible in the time limit which includes your return journey back to base.
Time limits
You can chose to do either the more popular 3.5 hour event or just try the event using the 2 hour option which is ideal for family teams where an adult and up to two youth riders can take part.
You are aiming to get back on time. If you are late you start to lose points. The later you are the more points you lose.
First round
The dates and locations of the events are given in the poster below. As per last year the first round falls close to Halloween (Sunday 30 October) and therefore teams are encouraged to decorate their bikes or dress up themselves with points avialable depending on how much effort has been made to get into the theme.
Sign on and starting format
Sign on opens on the day at 09:45. First team away at 10:31 with the other teams starting at one minute intervals. Pre-entry is now OPEN for Round 1 of the series. The sooner you enter the earlier a start time you get.
Afterwards
At the end of the event there will be hot food laid on at the event headquarters. Part of the attraction of these events is the chat and camaraderie with fellow riders discussing routes taken and markers found.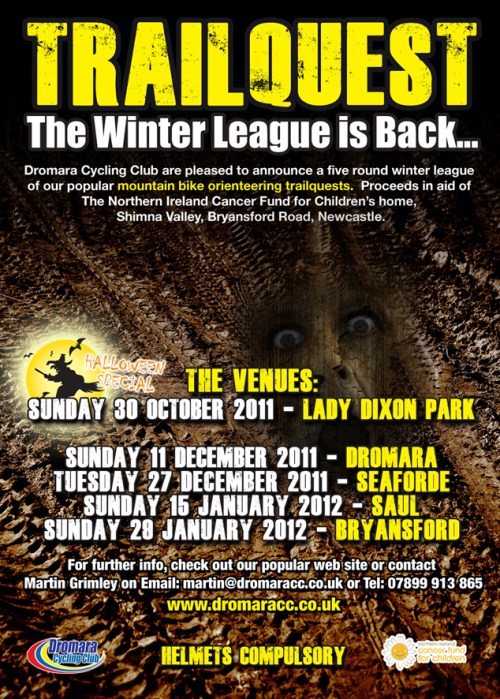 For more details see www.dromaracc.co.uk
Martin Grimley