Poison Glen Tour Sunday 10th May
The 2015 Four Masters Poison Glen Tour is set to take to the roads of Donegal on Sunday 10th May. The 78 mile course will take the same route as last year with a feed station at An Chuirt Hotel in Dunlewy. There will also be a shorter route available of approximately 60 miles that cuts out the Muckish Gap climb.
Cycling through Glenveagh National Park and the Poison Glen, this is a must do tour for all cyclists who appreciate the scenic beauty that Donegal has to offer or those who just enjoy a challenging cycle.
This year the event will be based from Aura Leisure Centre in Letterkenny and travel through Kilmacrennan via Trentagh.
We will then turn left in Termon through the magnificent Glenveagh National Park before turning right to tackle the first climb of the day, Muckish Gap.
Once over Muckish it's down into Falcarragh and on to Gorkahork and Dunlewy before a feed stop at An Chuirt Hotel in Dunlewy.
After a 15 min stop here we set of to tackle the toughest climb of the day, The Poison Glen. After you summit the Poison Glen you have a fast descent down into Glenveagh once again and then back towards Letterkenny via Gartan.
This is a fun day for everyone and not a race. Sign on will open from 9am and we will leave at 10am. Registration fee is €15 for adults and €10 for under 18's. Participants can pre-register online on Cycling Ireland Sports Portal until 8th May. Link to this can be found on Poison Glen Tour 2015 Facebook page.
Showers and refreshments will be available afterwards in Aura Leisure Centre in Letterkenny.
Dromara Coastal Sunday 10th May
The Coastal Leisure Cycle held by Dromara Cycling Club has become an established early summer favourite for local cyclists of all abilities.  This year's event will be on Sunday 10th May 2015.
From the leisure cyclist to the more focused club rider, the coastal has something for everyone.  Two distances are offered, 60 miles and 80 miles, starting from Dromara Village Football club located on the Rathfriland Road, Dromara
The tour offers a great day out with like minded people, going at a pace that suits you.  The first half of ride takes in a scenic loop around the south Down coast to Strangford, where a generous spread of food will be provided in our marquee on the village green, allowing the riders to take on well needed energy whilst they rest and enjoy the views across the lough to Portaferry.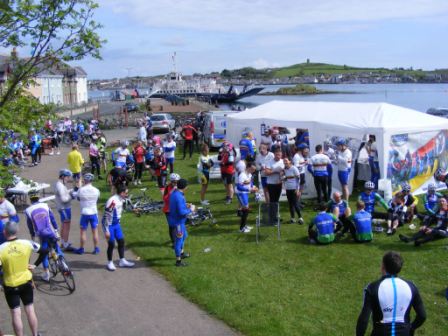 After leaving Strangford, just outside Quoile riders can decide which route to take back.  Either they can continue enjoying the coastal scenery and go the longer 80miles route or take the more direct 60miles route back to Dromara via Ballynahinch (see route maps below).  Once back in the clubhouse at Dromara FC the riders can shower, change, and enjoy a well earned chance to relax amongst friends.
A cycling goodie bag will be provided to all finishers.
Many thanks in advance to the event supporters from Chain Reaction Cycles Belfast flagship store in  who will be providing mechanical support before and during the event.
Location of Dromara Football Club
Sat. Nav. co-ordinates: N 54.37118788,  W 06.01813563
Facilities at Dromara Football Club
Car parking
Showers
Public bar
Route maps (click for full size)
Strava Route Links
Dromara CC Coastal Long Route (80 miles)
Dromara CC Coastal Short Route (60 miles)
How to enter & Sign on Times
Clcik HERE for online pre-registration is below which will close on Friday 8th May at 8pm.    Entries are limited to 250 places and are first come, first served.
The 2015 entry fee for pre-registered participants will be £15 for CTC or Cycling Ireland members, with at least £5 from each entry going to charity.  For those without a CTC or CI licence there is an additional fee of £1 (€1) for a one-day third party cover insurance.  The fee for entry on the day of the event will be £20 and for those aged under 18 the fee is £5.
Sign on opens at 8:45am with a mass roll out at 9:30am.
For more information on the Dromara CC Coastal or about Cycling Ireland licences please contact club secretary Martin Grimley, on 07899 913865 or email martin@dromaracc.co.uk
Marian Lamb