The Ulster Youth Cycling Championships will be promoted this year on Saturday 26 July in Craigavon by Clann Eireann Cycling Club. The club is grateful to our club team sponsors, KD Gas Services/Ideal, as well as the David McCall Foundation, Classic Mineral Water Company and Chain Reaction Cycles for generous support. The championships will consist of time trials and road races for Under 12's, Under 14's and Under 16's.
Pre entry is invited now and can be made by clicking on "Ulster Youth Championships" on the club website www.clanncc.net. The entry fee for each rider is £10 and this includes a goody bag and post-race buffet. Under 16 and Under 14 girls are permitted (if they want) to race one category down. It will help the organisers if this choice is indicated when entering.
Regular road bikes and helmets must be used for the time trials since Cycling Ireland rules prohibit the use of TT bikes and aero helmets in youth events. Gear checks may be made on the day at various times after sign on is completed.
The time trials to be held on the Saturday morning will be run off a start list based on pre-entered riders and it is hoped to have that list available and online from Friday 25 July.
Programme:
Gear check from 8.30am – this is compulsory for all riders.
Sign On from 9.00am to 9.45am at Craigavon Leisure Centre, Brownlow Rd, Craigavon.
Time Trials at Brownlow Rd. First rider will be off at 10.15 am (Under 12's, then under 14's, then under 16's). Distance for all categories is approximately 1.5 kilometres.
Road Races at Moyraverty West Rd.
1.00pm - Under 12's to do 2 laps totaling approximately 14 kilometres
1.30pm - Under 14's to do 4 laps totaling approximately 28 kilometres
2.15pm - Under 16's to do 6 laps totaling approximately 42 kilometres
3.45pm - Post Race Reception at Craigavon Leisure Centre
4.15pm - Medal presentation ceremony
Vehicle Parking:
There will be parking available at the Leisure Centre. Drivers of all vehicles associated with the event are asked NOT to park on the route or within 100 metres of the start/finish areas. Both the TT and road race circuits are less than 500 metres from the car park.
Accommodation:
Details of accommodation providers in the Craigavon area are available on Clann Eireann Cycling Club's Facebook page and www.discovercraigavon.com.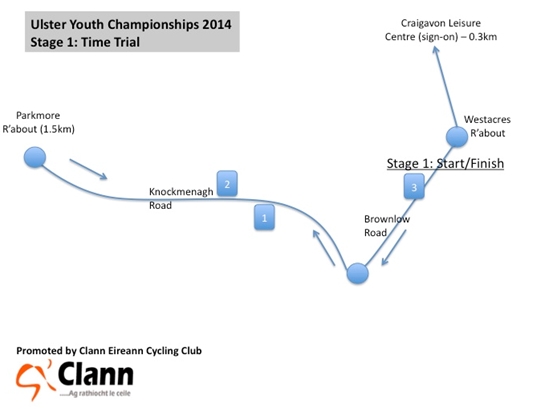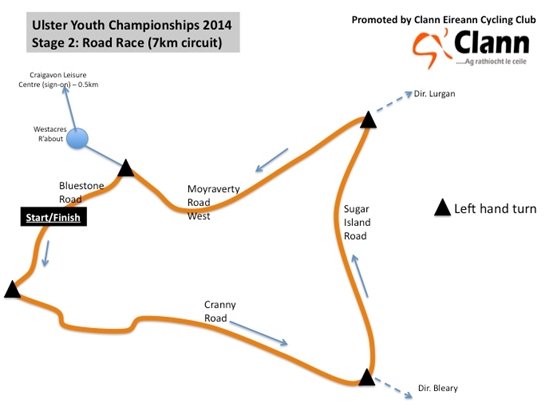 Further enquiries to John News (07899666062) or Michael Murray (07860608306).
Maurice Bann-Lavery
Posted by Martin Grimley (martin@ulsterxc.com)