This weekend the Redbull Foxhunt takes place on Cavehill. This downhill mountain bike event has the backing of Belfast City Council and organised by Plush MTB. The entry is full and should make for a great event to spectate at on both Saturday and Sunday. On Sunday Dromara Cycling Club are launching the first round of their trail quests. These off-road orienteering events have proved to be very popular over the years attracting a full range of cyclist, young and old, leisure and competitive minded. Details of both events are given here.

Red Bull Foxhunt 2012
The season closer for Irish Enduro style racing. The Foxhunt is a mass start, enduro style race on a gravity fed singletack from the peak of Cavehill to the gates of Belfast Castle.The 'hounds' get a 10 second start before the 'fox' Gee Atherton chases to pass as many riders as possible down the 5.3km enduro track. (285m of vertical descent with only 45 vertical meters of easy climing.) A course including all manner of mountainbike terrain - singletrack, fast descents, gravel transitions, forest trails, steep rollable drops & jumps with lung-busting, adrenalin pumping peddley sections too!
This is a true test of man and machine incorporating technical skill & fitness on a fun flowing natural gravity trail.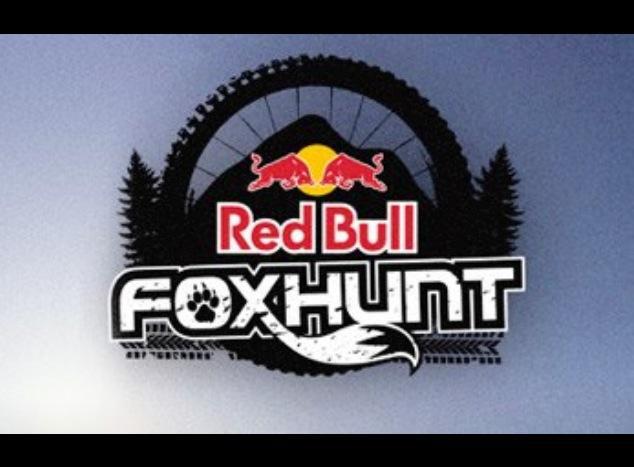 Event timings
Saturday
• 10-1pm practice
• 2-3pm mass start single category runs for seeding
Sunday
• 9-11am practice
• 12-1pm Mass start catagory races
• 2.30pm Foxhunt
• 4pm prizegiving
More details
RedBull.ie
Belfast City Council
Dromara CC's Trail Quest
Dromara Cycling Club is proud to present the 2012/2013 winter series of Trail Quests to raise money for the Northern Ireland Cancer Fund for Children. Trail Quests are off-road cycling orienteering events usually on mountain bikes. You can work as a team or on your own to try to locate markers left in certain out-of-the-way places cleverly dreamt up by the organisers. These off-road adventures are great for all levels of cyclists who want to discover the lanes, bridle ways and trails around the country in a hunt for markers. The events have two time limits to chose from, a 2 hour event or the more popular 3.5 hour event. Teams start at one minute intervals when they are handed a map and an answer sheet. The aim is to find as many markers as possible and return to base within the time limit. The dates and locations of the events are shown in the poster below.
For more information about these events see
Dromara CC Trail Quest site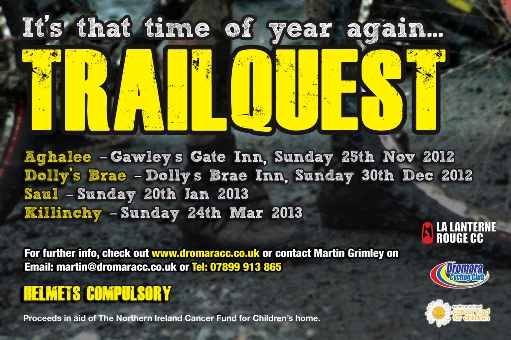 Posted by Martin Grimley